Sorry, that's the best theme I can come up with this time.
Pass: Brimstone by Cherie Priest
I got this book at the last Steampunk Symposium, after sitting through a couple of panels with the author. Aside from being a lovely, funny person even when severely sleep deprived, Cherie is also very keen on her research, and very knowledgeable about history and spiritualism, both of which have a huge bearing on this book.
Brimstone is a reasonably quick read. I finished it about three days.
Part of this is due to the way the book is formatted. It's laid out a little different than I'm used to, but I think the extra white space really helps move things along (it's kind of hard to describe, just take my word for it. Once you get used to the way things are laid out, it's not disruptive).
I don't want to dive into the specifics of the plot since you can read the blurb on the Goodreads paged linked above, but this book was filled with intrigue and memorable characters. Written in alternating first person POV, both narrators have distinctive voices, and the chapters are labeled, making it easy to keep track of who is speaking.
It was just creepy enough to keep me begging for more, without being too scary.
Also: the dog lives. Just going to put that out there in case you decide to pick this one up and get worried.
Genre: adult paranormal
Sub-Genre: historical
Page Count: 326
Fail: The Intern's Handbook by Shane Kuhn
I always feel bad putting books in this category, but I am fairly certain this is not a series I'll be continuing.
I was hoping for a funny, dark, action packed story, and this book delivered…for the most part.
It was funny…but not that funny. It didn't leave me rolling on the floor laughing, but it did get a smile or two out of me.
There was a fair bit of gore, but less than say…if this had been a tv show, instead of a book. There was action, but I wouldn't call this book fast paced. It was in some places, but in others, not so much.
I didn't go into this looking for a sympathetic character. I mean, click on the blurb and you'll see–the "interns" are really assassins, who worm their way into big companies to take out high profile targets. The main character is a sociopath.
Now, he does grow through the book, and becomes almost likable. His main redeeming feature is his sense of humor. But that's not enough when he's a jerk most of the time.
The thing that bothered me the most is that there's only 1 female character in the entire 288 pages with a speaking part, and she basically exists to sleep with the main character. Until you find out she's trying to either arrest him, or kill him, but it's okay, because she's still hot. And then…Well, I don't want to give away too much, but suffice to say this book falls pretty short of passing the Bechdale test. Not that I expected it to pass, but it was far enough away from even scoring that I won't be reading the next book in the series.
Genre: adult thriller
Sub-Genre: comedy
Page Count: 288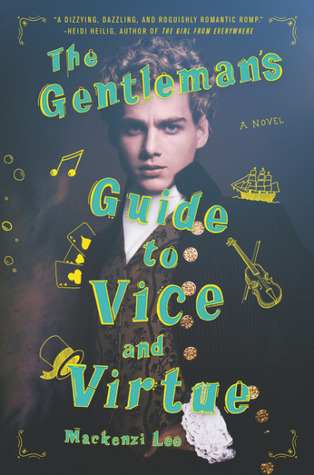 Promise: The Gentleman's Guide to Vice and Virtue by Mackenzi Lee
Speaking of main characters who are jerks most of the time, I present Monty, the main character in Gentleman's Guide.
Monty is an asshole. He's also funny. And he cares about people, even if he doesn't always know the best way to show it.
I loved Monty, and I loved this book. I have heard a rumor there will be another book following his sister coming out…eventually, and based on the way this story ended, I can't wait.
This book is equal parts travel and adventure, with a tiny hint of the supernatural thrown in. It's glorious. I know a lot of people were raving about this book over the summer, and trust me, it was well deserved. Go get it. Right now.
Genre: YA historical
Sub-Genre: romance, adventure
Page Count: 513
---
Like what you see? Check out Pass, Fail, Promise: Urban Fantasy Edition